Subscribe to the Newsletter:
HPCC Systems From LexisNexis® Open Source, Big Data Processing and Analytics Developer Newsletter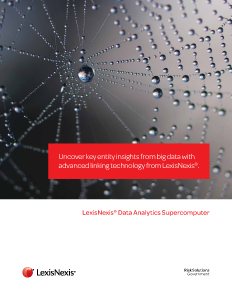 About HPCC Systems
HPCC Systems is an open-source, enterprise-proven Big Data analytics processing platform to manage, sort, link, join and analyze billions of records for enterprise customers who need to process large volumes of data in critical 24/7 environments. It evolved from the need of LexisNexis® to manage its own big data challenges to serve customers. Learn More


Submit the form on the right to sign up for the newsletter.